Learn about SkiTool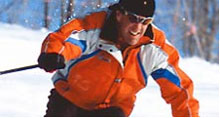 What is this tool for?
The SkiTool enables you to investigate the likely effects of assorted snowmaking strategies for various winter temperature conditions in different locations of Michigan.
Features
Analyze the upcoming winter season
Snowmaking inputs and outputs allow a user to examine how different strategies will impact snow depth, length of ski season, and business revenue for their ski resort.
For more information
View User Cases page for examples of how to use the tool.
Highlights
Examine snow conditions for historical periods and future climate scenarios.
Nine ski-relevant variables

Annual snowfall
One-inch snow days
Two-inch snow days
Five-inch snow days
First day of snow
Last day of snowcover
Maximum snowdepth
Snowmaking days
Machine made snow

18 stations in the Great Lakes region