Learn about Historical Weather Tool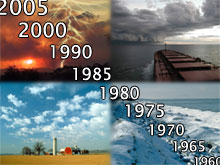 What is this tool for?
The Historical Weather Tool enables you to access over 40 years of daily weather data by selecting several climate variables for a time period of your choice. See tool highlights in the column on the right.
Feature
Download data in EXCEL format for further analysis
The download data in EXCEL format option makes it possible to analyze data outside of the tool. Custom selected data can be saved in EXCEL format and used to build graphs in a spreadsheet program. View demo

For More Information
Refer to the Climate section for more information on the historical climate of Michigan and the tool development.
View the User Cases for examples on how to use this tool.
Highlights
Over 40 years (1960-2002) of daily observations
Seven climate variables:

Maximum temperature
Minimum temperature
Daily average temperature
Liquid-equivalent precipitation
Frozen precipitation
Heat Index
Wind chill

18 stations in the Great Lakes region